---
(books, prints, and beyond)
---
---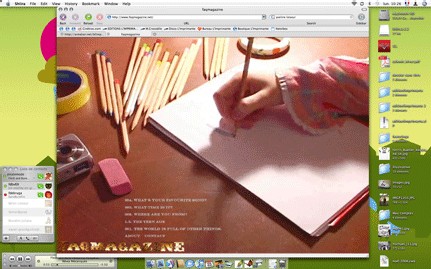 FAQ MAGAZINE 004
L'Imprimante est très fière d'avoir été choisie par Faq Magazine pour faire partie des sept curators du numéro 4.
Faq Magazine est une publication en ligne portée à bout de bras par
Juliana Mundim
, et qui propose des réponses visuelles aux Frequently Asked Questions de la vie de tous les jours. On a pu ainsi voir les images de
Marcus Oakley
répondre à la question Where Are You From?, ou bien le travail de
Ian Stevenson
comme réponse à What Time Is It?
Pour le numéro qui nous occupe, la question était What's Your Favorite Song? et voici les gens que j'ai réunis:
Hatim El Hihi & Jean-Marie Delbès
Formé en partie à St-Charles, Hatim El Hihi s'est acoquiné avec son pote le designer Jean-Marie Delbès pour réaliser Live!, une série qui reproduit les pochettes d'albums dont ils font disparaître les morts. Commencé il y a quelques années, ce work in progress a été exposé au Blackblock, au Comptoir, et est mis a jour de plus en plus fréquemment.
Sophie Grassart
Elle immisce dans le monde réel des propositions décalées mais justifiables, de l'art que l'on peut utiliser, d'où les lapins sont rarement absents.
Nicolas Müller
Membre du très actif collectif de plasticiens
Kung-Fu
, Nicolas Müller aime dessiner et chanter, et c'est son amour de la pop qui m'a persuadé qu'il se sentirait forcémment concerné par un thème pareil.
Marie Blanchard
J'ai croisé son travail sur le web, et il est à mon sens très prometteur. Elle participe à des webzines, des expos, et des publications en papier un peu partout.
IM Sun-Young
On s'est rencontrés sur un salon de l'édition jeunesse à Paris. Aujourd'hui elle est retournée à Séoul, mais on essaie de refaire des choses ensemble dès que c'est possible.
Eléonore Forêt
Entre Paris, la Normandie, la Louisianne, elle traîne aussi sur
Myspace
ou sur
Flickr
. Sortie des Beaux-Arts de Rouen, elle a longtemps édité son propre fanzine dessiné en noir et blanc, Le Gaétan.
Miss Le Bomb
Chanteuse de
Queen of Japan
, elle est également active musicalement sous le nom sus-cité. Mais c'est également une dessinatrice de talent comme je l'ai découvert plus récemment.
Frédéric de Brugada
Designer de réalité, Frédéric de Brugada porte également un intérêt certain à la musique via son projet
RadioLala
.
Yveline Loiseur
Les lecteurs réguliers de ce blog connaissent déjà le travail de cette photographe Lyonnaise avec laquelle L'Imprimante travaille régulièrement à la production de livres d'artistes.
*********************************************
L'Imprimante is proud to be a part of the new Faq Magazine's curators.
Faq Magazine is an online magazine edited by
Juliana Mundim
, wich shows collective visual answers to the Frequently Asked Questions from our everyday life. It has featured
Marcus Oakley
drawings answering Where Are You From?, or even
Ian Stevenson
work as an answer for What Time Is It?
For this issue, the question was What's Your Favorite Song? and here are the people I'v been able to join together:
Hatim El Hihi & Jean-Marie Delbès
Former St-Charles university student, Hatim El Hihi worked here with his friend Jean-Marie Delbès to create Live!, a series based on the dead rockers' record sleeves. It's a frequently updated work in progress.
Sophie Grassart
She brings her softly-deranged-but-truly-necessary propositions in the real world, art people can use, where you can often meet rabbits.
Nicolas Müller
Member of the
Kung-Fu
collective, Nicolas Müller sings and draws. I knew he would fit in that project.
Marie Blanchard
I discovered her work on the web, and I think she's getting better every day. She's featured in numerous webzines, exhibitions, or printed stuff.
IM Sun-Young
We met in Paris, but she's back in Seoul now. I still try to work with her when it's possible.
Eléonore Forêt
Between Paris, Normandy, Louisianna, she's hanging around
Myspace
or
Flickr
. Straight out of Rouen's Art School, she's been the editor of her own zine, Le Gaétan.
Miss Le Bomb
Queen of Japan
lead singer, she's also known as a solo performer under that blowing name. But I also recently discovered her drawing talents.
Frédéric de Brugada
Original reality designer, Frédéric de Brugada is also a music activist via his
RadioLala
project.
Yveline Loiseur
Regular readers of this blog already the work of this photographer from Lyon, because of Bureau L'Imprimante's artist book created with her.
<script defer="defer" id="snap_preview_anywhere" type="text/javascript" src="http://spa.snap.com/snap_preview_anywhere.js?ap=1&key=d7a4d406993e0aac4343b0237ad0175e&sb=0&domain=wmaker.net/blimprimante"></script>
Rédigé par Bureau l'Imprimante le 22/10/2006 à 12:29
---
---
Back to l'Imprimante Version 2.0